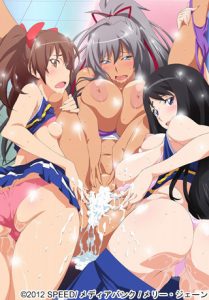 Title: Kansen 5: The Daybreak
Total Episodes: 3
Aired: Oct 26, 2012 to Apr 13, 2018
Oogami Island is normally a peaceful isle with lush green scenery, but is now a place of depraved wanton lust. The contagion Unknown – Level 4 has become epidemic. 3 girls, Hyuuga Natsu, Ochi Akari, and Hanazawa Airi find themselves trapped in a sports facility where they are assaulted by the infected.
(Source: AnimeNfo)

Label: Mary Jane
Prequel: Kansen 3: Shuto Houkai
Other: Kansen: Ball Buster The Animation
Format: mp4
Download Links
Subbed
Episode 1  Mirror   Salefiles
Episode 2  Mirror   Salefiles
Episode 3  Mirror   Solidfiles   Userscloud
Raw
Episode 3  Mirror   Userscloud