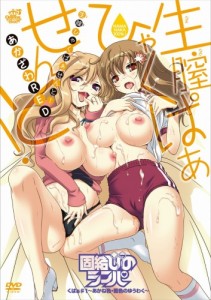 Title: Namanaka Hyaku Percent!: Katamusubi no Shinpa
Japanese Title: 生膣ひゃくぱぁせんと!
Synonyms: Namanaka 100%!: Katamusubi no Shinpa
Episodes: 3
Released Date: Nov 23, 2012 till Jun 7, 2013
* Based on the erotic manga by Akazawa Red.
"Shinpa", the practice of having on one's person a shoelace which color signifies his or her preferred sexual fetish. In this way also is one able to search out his/her ideal partner.
(Source: translated and adapted from official site by Cranston)

Screenshot:  Episode 1   Episode 2   Episode 3
Label: Queen Bee
Format: mp4
Download Links
Subbed
Episode 1   Mirror   Userscloud
Episode 2   Mirror   Userscloud
Episode 3   Mirror   Userscloud