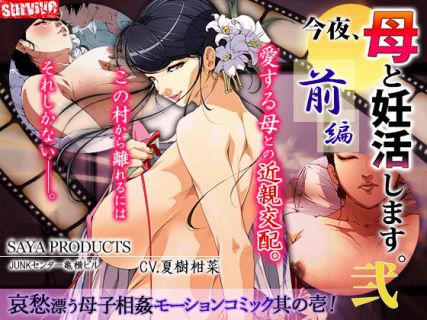 Japanese Title: 「今夜、母と妊活します。・弐」前編(モーションコミック版)
Title: Tonight, I Conceive With My Mother. 2 (First) (Motion Comic Version)
Released Date: July 28, 2016
Dlsite: RJ181278
Circle: survive
Format: mp4
Size: 78mb
Based on CG Illustration by JUNKCENTERKAMEYOKO.
Screenshot
Kazuma returned to his small hometown.
It was where he was born and raised, but as a man he learned that the town has a dark ritual.
Kazuma was forced to make bed with his own beautiful mother Yuri.
She must become pregnant; so shall the village's bloodline continue unbroken.
Yuri is 39 years old and strikingly attractive.
Little did Kazuma know he'll be making love to from tonight.
Download Links: Censored / Raw [ Mirror ]