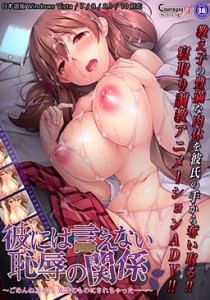 Japanese Title: 彼には言えない恥辱の関係~ごめんね、わたし先生のものにされちゃった……~
Title: Kare ni wa Ienai Chijoku no Kankei ~Gomenne, Watashi Sensei no Mono ni Sarechatta…~
Alternative Title: The Shameful Relationship He Mustn't Know ~I'm Sorry, I Belong To Sensei…~
Released Date: July 29, 2016
Dlsite: RJ180668
Circle: Courreges Ace
Format: mp4
Size: 81mb
Screenshot
Morning on the station platform. Amid the hustle and bustle Akihisa hunts his prey.
He's a schoolteacher, but it's the commute to school where he can be his true self:
a predator with a keen eye for vulnerable girls, for future exploitation.
Recently Akihisa — or Mr. Sasaki to his students — set his sights on a particular girl.
Today he's going to grope her again, mindful of the fact she's involved with a boy.
In fact he resents their relationship. Both of them are in Akihisa's homeroom class.
Anger and jealousy are the spice that make this cuckolding so delicious.
Sumire has nowhere to run, nowhere to hide her virginity from rape demon Sasaki…!!
[From DLsite English]
Download Links: Censored / Raw [ Mirror ]