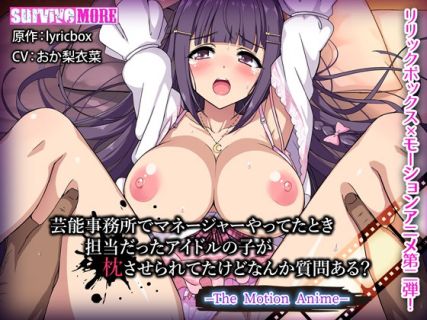 Japanese Title: 芸能事務所でマネージャーやってたとき担当だったアイドルの子が枕させられてたけど、なんか質問ある? The Motion Anime
Title: Geinou Jimusho De Manager Yatteta Toki Tantou Datta Idol No Ko Ga Makura Saserareteta Kedo Nanka Shitsumon Aru? The Motion Anime
Synonym: 芸能事務所でマネージャー The Motion Anime
Released Date: July 6, 2018
Dlsite: VJ012027
Circle: survive more
Source Material: CG Illustration by lyricbox
Format: mp4
Size: 71mb
Description: Aspiring idol Yukina was summoned to headquarters
and introduced to her new personal manager.
Yukina was eager and willing to work her way up the ladder but,
she wasn't very talented and the entertainment biz was tough.
She'd held on for years since her debut, never crying or quitting,
and at last she was about to get her big break……
Would she host a big company "event"?
Screenshot
Download Links: Censored / Raw [ Mexashare ]