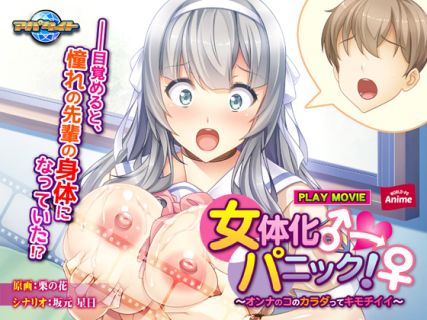 Japanese Title: 女体化パニック!~オンナのコのカラダってキモチイイ~ PLAY MOVIE
Title: Nyotai-ka Panic! ~Onna no Ko no Karada tte Kimochi Ii~ PLAY MOVIE
Released Date: April 26, 2019
Dlsite: VJ012648
Circle: WORLD PG ANIME, Appetite
Format: mp4
Size: 214mb
Sequel: 女体化パニック!2~ママってこんなに気持ちよかったんだ!?~ PLAY MOVIE
Screenshot
When Hiroki wakes up to find he's swapped into the body of the most beautiful girl in school Shingyouji Sakurako he thinks it's a dream come true until he discovers that she's expected to have sex with her father and two brothers every day! Will he escape or drown in pleasure?
Download Links: Censored / Raw [ Mexashare ]