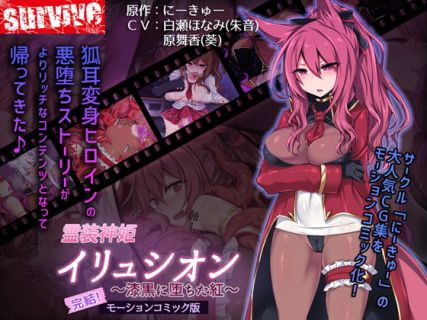 Japanese Title: 霊装神姫イリュシオン~漆黒に堕ちた紅~(モーションコミック版)
Title: Reisou Shinki Illusion ~Red Fades to Black~ (Motion Comic Version)
Released Date: December 5, 2019
Dlsite: RJ267082
Circle: survive
Format: mp4
Size: 145mb
Based on CG Illustration by Nikyu.
Screenshot
Clad in spirit armor, girls do battle with evil
They are the Reisou Shinki (Soulgear God Princesses).
Aoi Ichinomiya and Akane Kokonoe
Two young girls at Reisou Shinki Training Academy
Bearing the secret power of the spirit,
Wearing the armor to war with evil spirits.
Out searching for her missing partner Aoi, Akane finds her a changed girl….
Download Links: Censored / Raw [ Mirror ]