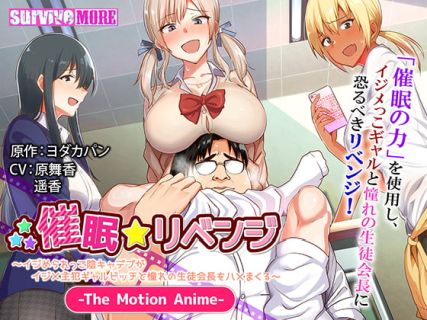 Japanese Title: 催眠☆リベンジ ~イジめられっこ陰キャデブがイジメ主犯ギャルビッチと憧れの生徒会長をハメまくる~ The Motion Anime
Title: Hypnotic * Revenge ~Bullied Gloomy Fatass Gets His F*ckvenge~ The Motion Anime
Alternative Title: Saimin Revenge The Motion Anime
Released Date: March 1, 2019
Dlsite: VJ012528
Circle: survive more
Format: mp4
Size: 225mb
Based on CG Illustration by yodakapan (ヨダカパン).
Screenshot
Everyday those JK Gal bitches bully me at school.
But not anymore… For this bullied boy has gained the power of
hypnosis and he will use on his creampie rampage of vengeance!
The bullying gals at school, the lovable student council
president that he has always admired and more!
All unwilling slaves on the receiving end of his warped carnal desires…
Download Links: Censored / Raw [ Mirror ]