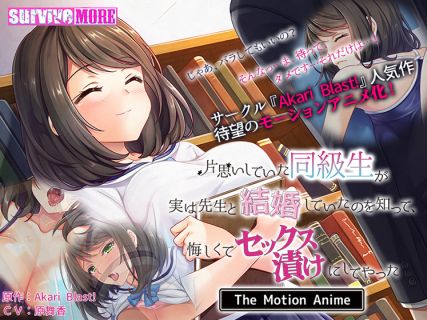 Japanese Title: 片思いしていた同級生が実は先生と結婚していたのを知って、悔しくてセックス漬けにしてやった The Motion Anime
Title: When I realized that my crush has already been married to a teacher, I soaked her in sex. The Motion Anime
Released Date: October 9, 2020
Dlsite:
Circle: survive more
Format: mp4
Size: 225mb
Based on CG Illustration by Akari Blast!.
Screenshot
The protagonist has stealing sex with his crush knowing she is secretly married to a teacher.
Despite her reluctant attitude in the first place, she gradually gets into sex with him having her masochistic desires, that hid deep in her mind, kindled by his escalating requests.
Download Links: Censored / Raw [ Mirror ]