Title: Toromitsu Musume no Hitou Service: Torottoro Churu Churu Gohoushi Sasete Kudasai
Japanese Title: トロみつ娘の秘湯サービス ~とろッとろちゅるちゅるご奉仕させてください~
Episodes: 1
Released Date: October 30, 2020
Brand: BOMB! CUTE! BOMB!
Source Material: Based on the CG Illustration by churu bicchi churu churu.
"Welcome to our spa!"
(What nice pearl white fundoshi…who are those loli girls!?)
On a sunny holiday you took a drive in a certain rural village
and awaiting you in an open-air bath were, unexpectedly,
three loli loli girls all in naughty outfits.
"I'm Hazuki! Have a seat here, please.
I'll give you whole-hearted services!"
"Looks good…but presumably no sex so far, he he?
Anyway you will be satisfied by Amane's services, physically at least."
"I'm Hina~~oniichan, you are so big… I'll do my best~~"
Surrounded by the three I sit down quietly
then they came close to me and…
"Please f*ck us bareback and creampie as much as you want."
"Really?"
"Yes, but in return…"

---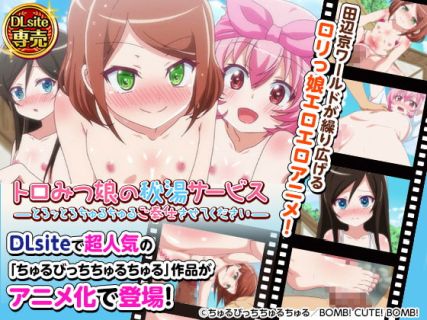 Episode 1
Released Date: October 30, 2020
Tags: Loli, Small Breasts, Handjob, Blowjob, Footjob
Screenshot
Download Links:
Preview [ Video ] [ Screenshot ]
Censored / Subbed [ Mirror ] [ Mexashare ]
Censored / Raw [ Mirror ]