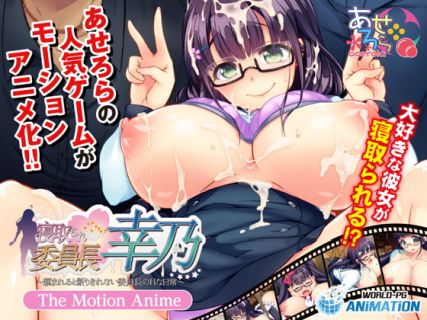 Japanese Title: 寝取られ委員長幸乃 ~頼まれると断りきれない委員長のHな日常~ -The Motion Anime-
Title: NTRed Class Rep Yukino ~H Days of Class Rep Who Can't Say No~ -The Motion Anime-
Released Date: July 31, 2020
Dlsite: VJ013479
Circle: WORLDPG ANIMATION
Format: mp4
Size: 424mb
Based on erotic game by acerola.
Screenshot
The heroine Yukino Makihara was born in an ordinary family,
and had been raised in an ordinary environment. Now She lives
in her uncle's house because of her school's location.
She is a bit clumsy and careless, often gets misfortunes.
But she works hard on study despite of such things.
A turning point of her life comes when she has an accidental
eye contact with a boy in same school at a library.
His name is Souji. As talking with him a number of times,
she is getting attracted by his serious attitude to his
dream to be a doctor and bright personality.
After getting in a relationship with him, Yukino sets her
mind to go to the university which he wants to go to.
But her family isn't affluent enough to let her do so…
Thus, she begins to earn money.
Download Links: Censored / Raw [ Mirror ]