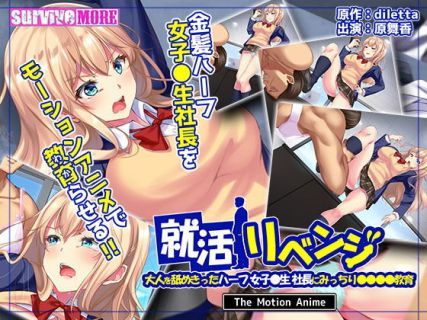 Japanese Title: 就活リベンジ -大人を舐めきったハーフ女●●生社長にみっちり●●●●教育- The Motion Anime
Title: Job-Seeker's Revenge ~Turning a a J* CEO Into My Fuckhole~ The Motion Anime
Released Date: May 14, 2021
Dlsite:
Circle: survive more
Format: mp4
Size: 271mb
Based on CG Illustration by diletta.
Screenshot
Shigeo, 48, is looking for work… again.
When he hears about an underwear company run by a schoolgirl,
he thinks he's found his next big break. She does interviews herself,
so he thinks it'll be easy… until he gets there.
She's condescending and rude, and in the end…
she only lets him have the job if he puts on some panties and begs for it.
But Shigeo has had enough — now it's time for some payback…!
Download Links: Censored / Raw [ Mirror ]