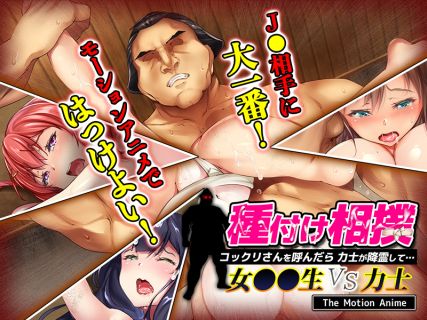 Japanese Title: 種付け相撲 女●●生vs力士-コックリさんを呼んだら力士が降霊して- The Motion Anime
Title: Sexy Sumo Schoolgirls v.s. The Champ ~Communication with the Dead~ The Motion Anime
Released Date: June 11, 2021
Dlsite:
Circle: survive more
Format: mp4
Size: 314mb
Based on CG Illustration by loopsoft.
Screenshot
People say that you can use the kokkuri board to talk to the dead…
Azusa, Sae, and Megu are 3 friends who decide to try this new fad at their school.
Supposedly the sumo club room in the abandoned school building has a lot of spiritual
energy floating around, so the group decides to test the kokkuri board there.
The girls had a lot of fun at first, joking around about sumo in the empty room.
But when itcame time to use the board, the unexpected happened —
an enormous sumo ghost appeared. And what's more, he's a former champion.
"I won't forgive those who show disrespect to sumo" he said.
"Let me show you my strength…"
Download Links: Censored / Raw [ Mirror ]