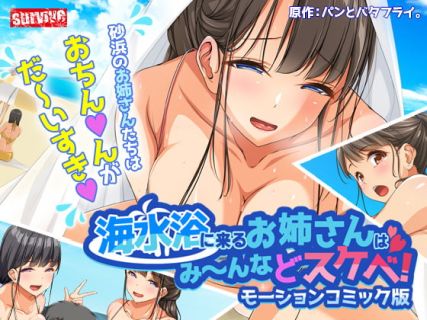 Japanese Title: 海水浴に来るお姉さんはみ~んなどスケベ! モーションコミック版
Title: All the Older Beachside Girls are Super Salacious! (Motion Comic)
Released Date: August 5, 2021
Dlsite: RJ335966
Circle: survive
Format: mp4
Size: 284mb
Based on CG Illustration by Pan tou Butterfly (パンとバタフライ。).
Screenshot
Summer vacation at the beach is just the best.
Skimpy swimsuits, big tits, beautiful girls as far as the eye can see…
Even since those two girls teased my dick on the train, I've been feeling particularly horny too.
So when I get lost, and end up peeping on some girls getting changed, I can't stop myself.
However, I get caught…
And so started my summer of daily sexual teasing at the hands of these lewd older girls,
and even my classmates!
Download Links: Censored / Raw [ Mirror ]