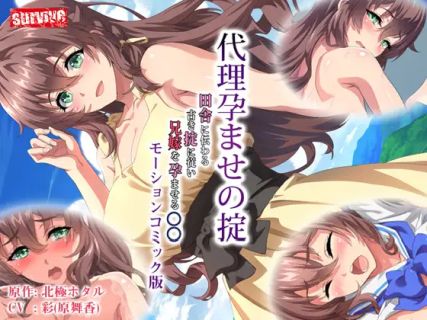 Japanese Title: 代理孕ませの掟 ~田舎に伝わる掟に従い兄嫁を孕ませる少年~ モーションコミック版
Title: Pregnancy by Law ~Boy Knocks Up Brother's Wife~ (Motion Comic Ver.)
Released Date: December 2, 2021
Dlsite: RJ359067
Circle: survive
Format: mp4
Size: 276mb
Based on CG Illustration by Hokkyoku fire Fly (北極ホタル).
Screenshot
It was a normal summer vacation — hot as ever, but I was looking forward to relaxing on my time off from school. My brother had recently gotten married, too, so he was back him with his new bride… my childhood crush. Though she's 10 years older than me, she used to come over to play all the time when we were little. She always was so pretty… but it's been long enough that I'm just happy for my brother.
She's been staying with us for a few days now, but suddenly the village elders want to talk with her…
Download Links: Censored / Raw [ Mirror ]