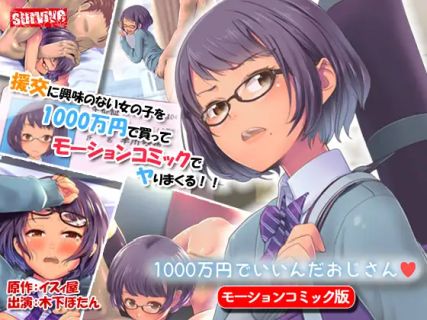 Japanese Title: 1000万円でいいんだおじさん モーションコミック版
Title: I'll Take 100K, Old Man Motion Comic
Released Date: June 2, 2022
Dlsite: RJ390478
Circle: survive
Format: mp4
Size: 267mb
Based on CG Illustration by isuwie-ya (イスィ屋).
Screenshot
A middle-aged man buys a girl who has zero internet in prostitution
with a hundred thousand dollars, and has all kinds of intense sex with her.
Includes a huge variety of sex situations, such as recorded deflowering
and creampie, nipple teasing, from behind, anal, window sex, fellatio,
ear licking, skirt flipping, fingering, and much more.
Download Links: Censored / Raw [ Mirror ]