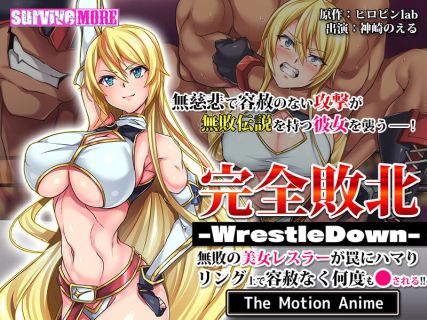 Japanese Title: 完全敗北-WrestleDown-無敗の美女レスラーが罠にハマりリング上で容赦なく何度も●される!! The Motion Anime
Title: Complete Defeat -WrestleDown ~Beautiful Wrestler Falls Into a Violation Trap~ The Motion Anime
Released Date: September 9, 2022
Circle: survive more
Format: mp4
Size: 221mb
Based on CG Illustration by Heroine Pinch lab (ヒロピンlab).
Screenshot
Chiho Asumi is a strong and beautiful wrestler with an unblemished match record.
However, problems with her organization leads to money problems which forces
her to join an underground fighting ring know as "ULTIMATE UNDERGROUND BATTLE".
She was told it'd be a regular match, but she sees no referee, and her opponent is a hulking man.
She realizes the trap she's fallen into, but decides to test her skills.
Unfortunately for her, their body size disparity is too great, and she's already down for the count once.
The winner also gets to change up the rules, and the bout restarts as a free-for-all.
Chiho is torn of her desire to fight, her clothes are shamelessly ripped, and she gets hardcore
violated in the ring for all to see until she passes out.