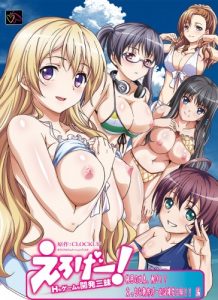 Title: Eroge! H mo Game mo Kaihatsu Zanmai
Japanese Title: えろげー! ~Hもゲームも開発三昧~
Total Episodes: 6
Released Date: Aug 26, 2011 till Mar 25, 2016
* Based on the erotic game by Clock Up.
Mochizuki Tomoya works for an eroge production company and all his co-workers are girls. One day, when the air-conditioning becomes unusable, everyone decides that the only thing to do is to work in their undergarments!
~ translated and adapted from official site by Cranston

Screenshot: Episode 1   Episode 2   Episode 3   Episode 4   Episode 5 Episode 6
Label: Collaboration Works
Format: mp4
Censored
Download Links
Subbed
Episode 1   Mirror   Userscloud
Episode 2   Mirror   Userscloud
Episode 3   Mirror   Userscloud
Episode 4   Mirror   Userscloud
Episode 5   Mirror   Userscloud
Episode 6   Mirror   Userscloud
Raw
Episode 6  Mirror  Userscloud  Depositfiles