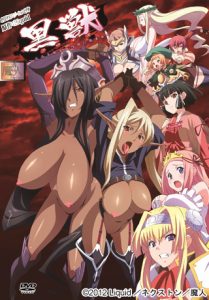 Title: Kuroinu: Kedakaki Seijo wa Hakudaku ni Somaru
Japanese Title: 黒獣[クロイヌ] ~気高き聖女は白濁に染まる~
Total Episodes:
Released Date: Jan 27, 2012 till
Based on erotic game by Liquid.
In the land of Selenus, a great war has raged for hundreds of years between the allies and the demon army. Now, at last, victory for the allies is within sight. The allies commission Valdo and his mercenary troops as the vanguard of the final assault.
The attack succeeds, but, Valdo and his people have plans of their own…
Screenshot: Episode 1  Episode 2  Episode 3  Episode 4   Episode 5   Episode 6
Label: Majin
Format: mp4
Download Links
Subbed
Episode 1   Mirror   Userscloud
Episode 2   Mirror   Userscloud
Episode 3   Mirror   Userscloud
Episode 4   Mirror   Userscloud
Episode 5   Mirror   Depositfiles  Userscloud
Episode 6   Mirror   Mexashare
Raw
Episode 5   Mirror   Depositfiles   Userscloud
Episode 6   Mexashare