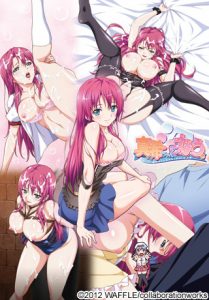 Title: Maki-chan to Nau.
Japanese Title: 真希ちゃんとなう.
Total Episodes: 4
Released Date: Feb 24, 2012 till Dec 26, 2014
Based on the visual novel by Waffle.
Sanjou Maki is the girl living next door to Sakonji Seiichi. She appears to be well-bred, gifted with both beauty and brains. However, one night, Seiichi sees her masturbating on the veranda…
Maki easily admits that she's a dirty girl and jokingly suggests to Seiichi that she should be blackmailed into being his sex-slave.
(Source: translated and adapted from official site by Cranston)
Screenshot:  Episode 1   Episode 2   Episode 3   Episode 4
Label: Collaboration Works
Format: mp4
Download Links
Subbed
Episode 1    Mirror   Solidfiles   Userscloud
Episode 2    Mirror   Solidfiles   Userscloud
Episode 3    Mirror   Solidfiles   Userscloud
Episode 4    Mirror   Solidfiles   Userscloud