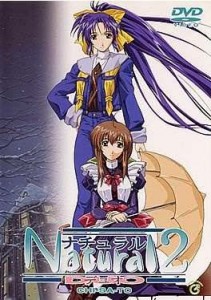 Title: Natural 2: Duo
Japanese Title: ナチュラル2 デュオ
Alternative Title: Natural Obsessions 2
Total Episodes: 4
Released Date: Nov 25, 2001 till Jul 24, 2003
* Based on the game by Fairy Tale.
Twin sisters, Chisato and Kuu, lost their parents, and they were adopted by an old man. Then they met Shoma. Shoma was living with his grandfather because his parents were going to get divorced. Chisato was a tomboy, while Kuu was a crybaby. They both liked Shoma.
10 years have passed since then. Shoma gave up his dream to become a violinist and worked as an editor of a music magazine office. To hear the grandfather's death, he went to the house and he had a reunion with the two girls who had become beautiful women…
Source: AnimeNfo

Screenshot:  Episode 1   Episode 2   Episode 3   Episode 4
Label: Green Bunny
Alternative Settings: Natural, Natural Another
Format: mp4
Download Links
Subbed
Episode 1   Mirror   Userscloud
Episode 2   Mirror   Userscloud
Episode 3   Mirror   Userscloud
Episode 4   Mirror   Userscloud