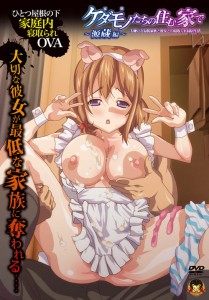 Title: Kedamono-tachi no Sumu Ie de
Japanese Title: ケダモノ[家族]たちの住む家で
Episodes: 2
Released Date: Apr 24, 2015 till Nov 20, 2015
Arata Asaoka lives with his despicable, chauvinist father and older brother. Arata is an illegitimate child so he has always been treated as such. One day he met a girl who gave him hope. Being with her made Arata feel good, and he fell in love. He began to believe that his life could be better. However, his father and brother have other plans.
Source: HentaiHaven

Screenshot: Episode 1  Episode 2
Label: GOLD BEAR
Format: mp4
Censored
Download Links
Subbed
Episode 1  Mirror   Userscloud
Episode 2  Mirror   Userscloud   Depositfiles
Raw
Episode 2  Mirror  Userscloud  Depositfiles