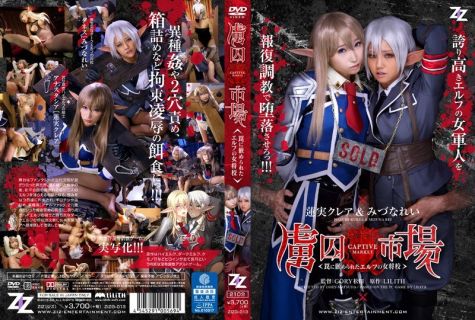 Japanese Title: 虜囚市場~罠に嵌められたエルフの女将校~ 蓮実クレア みづなれい
Title: Ryoshuu Ichiba ~Wana ni Hamerareta Elf no Onna Shoukou~
Released Date: December 4, 2015
Circle: ZIZ
Number: ZIZG-013
Format: mp4
Size: 542mb
Screenshot
Based on erotic game by Black Lilith.
European style fantasy featuring Steampunk! Fullmetal tanks race around the vast earth, and an elven martial officer of great pride controls them!
Black Lilith welcomes up-and-coming illustrator L Shindou who is famous for the sensual fetishism and ecstasy face for this game!
Lilith presents a sexual humiliation/training story of the elf warriors!
All heroines are with long ears!
Violations take place in a peculiar world that mixes fantasy and modern civilization. Disgrace the strong dark elf office and high elf knight by different species sex, machine sex, brainwashing using drugs, etc.!
Download Links: Censored / Raw [ Mirror ]