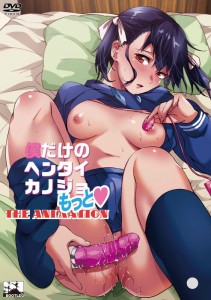 Title: Boku Dake no Hentai Kanojo Motto The Animation
Japanese Title: 僕だけのヘンタイカノジョ もっと♥ THE ANIMATION
Episodes: 1
Released Date: Sep 1, 2017
Takigawa Hina goes to a locally famous all-girls school, and she's my girlfriend. We're both perverts, and our hearts are as one. …at least that's what I think, but there's one thing she just won't show me. In front of my very eyes, for me and for me alone, I want her to pee!!! In order to take our relationship to the next level, I'm going to rise to the challenge…!!
Source: hanime

Screenshot:  Episode 1
Label: BOOTLEG
Prequel: Boku dake no Hentai Kanojo The Animation
Format: mp4
Censored
Download Links
Subbed
Episode 1  Mirror   Solidfiles   Userscloud
Raw
Episode 1  Mirror   Solidfiles   Userscloud