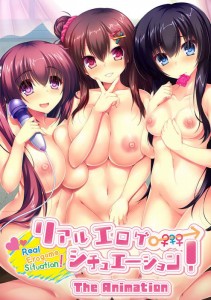 Title: Real Eroge Situation! The Animation
Japanese Title: リアルエロゲシチュエーション! THE ANIMATION
Episodes:
Released Date: Jan 26, 2018 till ?
Based on eroge by Jitaku Studio.
Nagato is a simple student who all of a sudden finds himself in deep when the most popular girl in class, his childhood friend, and an old unrequited love all confess to him at the same time! His eroge-filled youth is about to begin!
Source: hanime

Screenshot:  Episode 1   Episode 2
Label: Pink Pineapple
Format: mp4
Censored
Download Links
Subbed
Episode 1   Mirror   Salefiles   Userscloud
Episode 2   Mirror   Depositfiles   Userscloud
Raw
Episode 1   Mirror   Salefiles   Userscloud
Episode 2   Mirror   Mexashare   Userscloud