Title: Zoku Tsuma Netori: Ikumi to Shizuka
Japanese Title: 続・妻ネトリ 郁美と静香
Episodes: 1
Released Date: December 28, 2018
Brand: ZIZ
Prequel: Tsuma Netori: Ryoujoku Rinne
Based on erotic game by Black Lilith.
Wife and teacher, Ikumi Sunohara is becoming more used to her life as a sex slave. She has been desperately trying to protect her sister and has been blackmailed into performing many horrible and lewd deeds.
Unfortunately her sister Shizuka starts to become suspicious and looks into the situation, finding herself falling right into the lap of the men taking advantage of her sister…

Zoku Tsuma Netori: Ikumi to Shizuka Episode:
---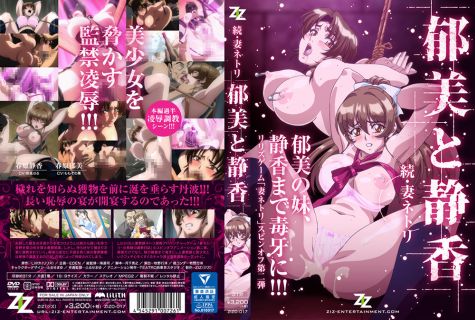 Episode 1
Released Date: December 28, 2018
Tags: MILF, Big Breasts, Sex Toys, Cunnilingus, Anal, Double Penetration, Threesome, Handjob, Blowjob, Bondage, Enema, Masturbation, Female Teacher, Inflation, School Girl, Filmed, Blackmail, Armpit Fetish
Screenshot
Download Links: