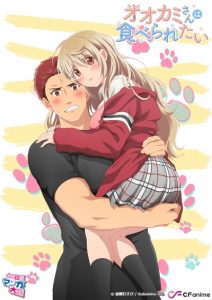 Title: Ookami-san wa Taberaretai
Japanese Title: オオカミさんは食べられたい
Episodes: 3
Released Date: September 7, 2020 till September 21, 2020
* Based on a teens-love manga by Onigiri Musubi.
Ookami had her skirt swiped by the rumored "skirt bandit." Her teacher Akagashira happened to be passing by and came to Ookami's rescue. Akagashira took Ookami home, but Ookami had a real reason for bringing Akagashira there… "Stuck with a girl in a room with the lights out, I … can't help myself!"
Source: ANN
Note 1: It won a contest by WWWave Corporation with one of the prizes being an anime adaptation as part of ComicFesta Anime series of anime shorts.

Download Links:
Preview [ Video ] [ Screenshot ]
Subbed
Episode 1   Mirror
Episode 2   Mirror
Episode 3   Mirror
Raw