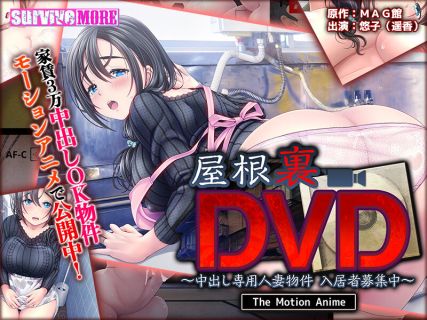 Japanese Title: 屋根裏DVD ~中出し専用人妻物件 入居者募集中~ The Motion Anime
Title: Yaneura DVD ~Nakadashi Senyou Hitozuma Bukken Nyuukyosha Boshuuchuu~ The Motion Anime
Released Date: October 28, 2022
Circle: survive more
Format: mp4
Size: 385mb
Based on CG Illustration by MAGCAN (MAG館).
Screenshot
A man moves to a cheap, rundown apartment because
of the hot live-in widowed manger.
As the days pass, they become closer and closer.
One day, he notices a loose ceiling board.
To this surprise, it comes right off,. revealing an attic.
Peeping in, he notices a video camera, recording equipment,
a bunch of DVDs, and a computer…
Checking out the computer, he sees some video files.
The videos are of a woman being threatened and violated.
An adult video? Wait, that voice sounds familiar…
And one idea pops into his head.
"Hmm, if I blackmail her with these videos, maybe I can fuck her like that too"
Download Links: Censored / Raw [ Mirror ]