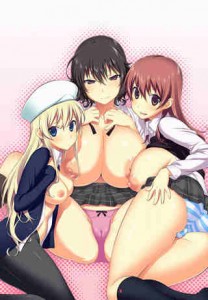 Title: Tenioha! Onna no Ko datte Honto wa Ecchi Da yo?
Japanese Title: てにおはっ! ~女の子だってホントはえっちだよ?~
Total Episodes: 2
Released Date: Nov 22, 2013 till Jan 31, 2014
Based on the erotic game by by Rootnuko+H.
No convoluted plots or deep philosophy here! Just tons and tons of hot sex with five cute girls! Enjoy a wide variety of situations ranging from classic fellatio and nakadashi sex to footjobs, traps, and more.
Source: J-List
Screenshot:  Episode 1   Episode 2
Label: Mary Jane
Format: mp4
Download Links
Subbed
Episode 1   Mirror   Solidfiles   Depositfiles
Episode 2   Mirror   Solidfiles   Depositfiles