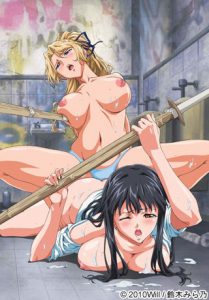 Title: Rin x Sen: Hakudaku Onna Kyoushi to Yaroudomo
Japanese Title: RIN×SEN~白濁女教師と野郎ども~
Episodes: 2
Released Date:  May 28, 2010 till Jul 30, 2010
* Based on a game by Guilty+.
Ebihara Urara's fiance disappears after incurring significant debts. As guarantor, she is coerced into joining the faculty of Kurodou Academy by the debt collector Kijima with the promise of wiping out the interests on the debts.
Believing that her fiance would come for her, Urara gives in to Kijima and transfers to Kurodou. However, what she found there was the deepest pit of depravity…
~ translated and adapted from the official Japanese site by Cranston

Screenshot:  Episode 1  Episode 2
Label: Suzuki Mirano
Sequel: Rin x Sen + Ran -> Sem: Cross Mix
Format: mp4
Download Links
Subbed
Episode 1  Mirror   Userscloud
Episode 2  Mirror   Userscloud