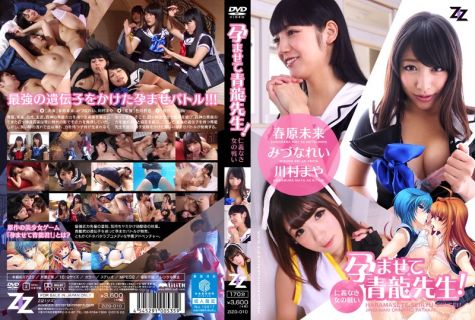 Japanese Title: 孕ませて青龍先生!~仁義なき女の戦い~ 春原未来 みづなれい 川村まや
Title: Haramasete Seiryuu-sensei! ~Jinginaki Onna no Tatakai~
Released Date: May 1, 2015
Circle: ZIZ
Number: ZIZG-010
Hentai Anime Adaptation: Haramasete Seiryuu-kun!
Format: mp4
Size: 534mb
Screenshot
Based on erotic game by Lilith Soft.
It seems that everyone is fighting over the main character Seiryu-kun's genes!! They've even made a competition out of it! However, little do they know of the suspicious plot behind the whole situation. In any case this is a crazy school love comedy adventure! An adventure of an upperclassman and her friend trying to be impregnated!
Download Links: Censored / Raw [ Mirror ]