Title: Kiniitta Chitsu ni Ikinari Nakadashi OK na Resort-tou
Japanese Title: 気に入った膣にいきなり中出しOKなリゾート島
English Title: Resort of Cumpie Fantasies
Episodes: 2
Released Date: September 20, 2017 till October 13, 2017
Brand: SELFISH
* Based on the series of doujinshi by Aomizuan.
As male customers arrive at the resort hotel of this tropical island paradise… They are greeted by the jiggly breasts of busty hotel women!
It turns out that on this island here, you can do whatever you please with the girls. Anytime, anywhere, anything! They've been raised as fine young ladies, their bodies and souls exist exclusively for your manly pleasures!
…and with not a moment to spare, the hotel women begin to undress…

---
Episode 1
Released Date: September 20, 2017
Tags: Big Breasts, Masturbation, Blowjob, Brown-skinned Girl, Twin Tail, Megane, Doggy Style, Harem, Creampie
Screenshot
Download Links:
Censored / Subbed [ Mirror ] [ Mirror 2 ]
Censored / Raw [ Mirror ]
---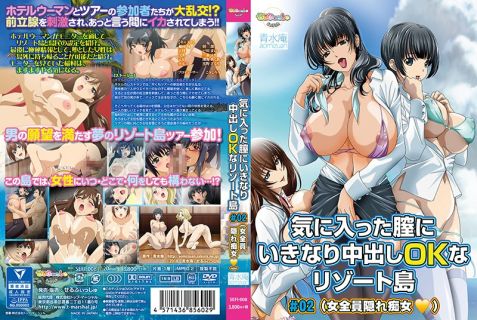 Episode 2
Released Date: October 13, 2017
Tags: Doggy Style, Harem, Big Breasts, Brown-skinned Girl, Twin Tail, Megane, Creampie, Old Man, Blowjob, Orgy
Screenshot
Download Links:
Censored / Subbed [ Mirror ] [ Mirror 2 ]
Censored / Raw [ Mirror ]