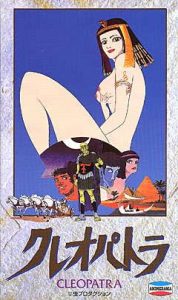 Title: Cleopatra
Synonyms: Cleopatra: Queen of Sex
Japanese Title: クレオパトラ
Episodes: 1
Released: Sep 15, 1970
Three people from the future are spiritually sent back in time to relive the era of Caesar, Marc Anthony and Cleopatra. As close companions to these key historical figures, they seek to understand the nature of an enemy's plan in their own time.
Source: ANN
Note: In the wake of the great success of the first major Japanese pornographic animated piece, Sen'ya Ichiya Monogatari, a few others followed; out of those, this was the second one, after Hi Gekiga Ukiyoe Sen'ya Ichiya.
Format: mp4
Download Links
Subbed
Episode 1  Salefiles  Userscloud