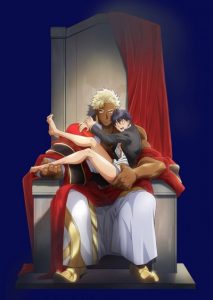 Title: Kyojin-zoku no Hanayome
Japanese Title: 巨人族の花嫁
Episodes: 9
Released Date: July 6, 2020 till August 31, 2020
* Based on a BL fantasy adult manga by ITKZ.
Kouichi, a tall player in his high school basketball team, is whisked away to another world while masturbating. There, he arrives in a kingdom of giants, and is asked by the kingdom's first prince to be his bride and bear his child.
Source: ANN

Download Links:
Preview [ Video ] [ Screenshot ]
Subbed
Episode 1   Mirror
Episode 2  Mirror
Episode 3  Mirror
Episode 4  Mirror
Episode 5  Mirror
Episode 6  Mirror
Episode 7  Mirror
Episode 8  Mirror
Episode 9  Mirror
Raw
Episode 1   Mirror
Episode 2  Mirror
Episode 3  Mirror
Episode 4  Mirror
Episode 5  Mirror
Episode 6  Mirror
Episode 7  Mirror
Episode 8  Mirror
Episode 9  Mirror