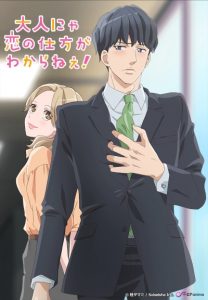 Title: Otona Nya Koi no Shikata ga Wakarane!
Japanese Title: 大人にゃ恋の仕方がわからねぇ!
Episodes: 8
Released Date: October 5, 2020 till November 23, 2020
Mio Sudou, a 30-year-old office lady has gone five years without a boyfriend and has forgotten all about love. Shuuji Mashima, a foreign-affiliated consultant has not had a girlfriend in seven years and has lost almost all interest in women. Meeting at a matchmaking party, Mio is disgusted by Shuuji as he states, "I am not into women." However, when Mio makes a provocative comment toward Shuuji, things take an unexpected direction.
(Source: MAL News)

Download Links
Preview  [ Video ]  [ Screenshot ]
Subbed
Episode 1   Mirror   Mirror 2
Episode 2   Mirror   Mirror 2
Episode 3   Mirror   Mirror 2
Episode 4   Mirror   Mirror 2
Episode 5   Mirror   Mirror 2
Episode 6   Mirror   Mirror 2
Episode 7   Mirror   Mirror 2
Episode 8   Mirror  Mirror 2
Raw
Episode 1   Mirror   Mirror 2
Episode 2   Mirror
Episode 3   Mirror
Episode 4   Mirror
Episode 5   Mirror
Episode 6   Mirror
Episode 7   Mirror
Episode 8   Mirror